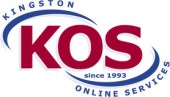 Electronic Mail Administration
Simple mail account administration for KOS customers.

Administer your KOS mail account
For mail accounts included with standard DSL, dial-up and general accounts. Also offers support for those customers who have domain names but do not have web hosting or extended needs. To administrate a hosted domain, use the account "postmaster" and your domain name, as given to you by a KOS representative.
Administer your KOS VIP mail account/s
Administer your extended-requirements mail service with large attachment capability, POP-before-SMTP remote relaying, advanced domain hosting features; advanced virus and spam protection. This service does not come with all KOS accounts, please call a sales representative for more information.
Administer your Spam & Virus Preferences
Using our "Spam Control System", you can control how mail is treated for each account using whitelisting, blacklisting, a quarantining feature and adjusting the preferences to your requirements. Suggested configuration:
Use Defaults: No - Tag Score: 1 - Quarantine Score: 2 - Block Score: 8
Administer your Web Hosting E-Mail
Please contact our web hosting service representative for details regarding your web-hosting mail service. Click here to send an e-mail from our contacts page, selecting "Web Hosting Information Department".
Terms & Conditions - Acceptable Use Policy
Kingston Online Services